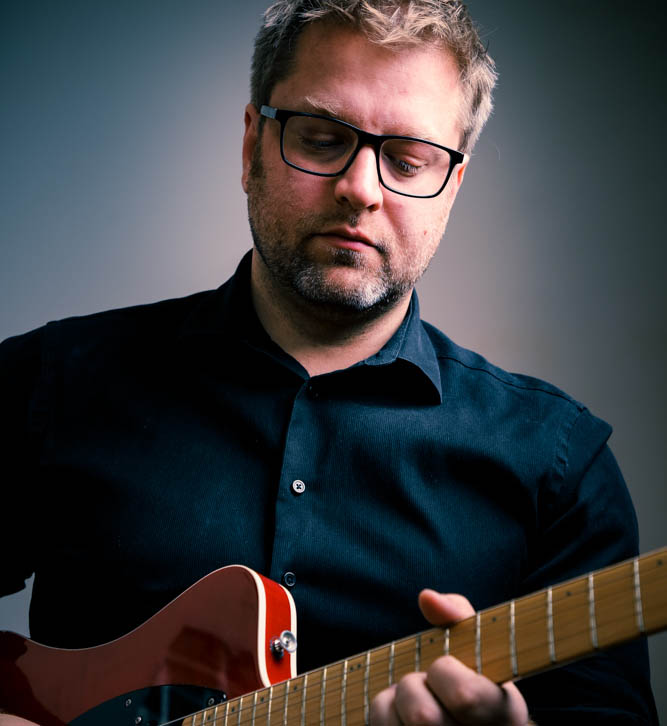 Canadian guitarist and composer Keith Price recently moved to New Zealand to lecture in jazz studies at the University of Auckland. While Price learned his first chords from his Grandfather, the intensity and rawness of John Coltrane's musical expression drew him into the world of jazz at age fifteen. Later, Price studied at the Conservatory of Amsterdam and the University of Manitoba before completing undergraduate and graduate degrees at Brandon University where he studied with internationally recognized pianist and composer Michael Cain.
Price's omnivorous listening habits are the foundation of his expressive musical style which combines old jazz, new jazz, folk, noise and funk. His sound is a mixture of colours, textures, and flavours from different genres, filtered on stage through the process of improvisation. Whether performing with a double-quartet, a trio, or as a solo guitarist, Price's musical approach focuses on openness, imagination, and the search for a shared connection with the audience.
'The notes and chords he uses weaves this dream-like atmosphere in his environment. He doesn't seem to be afraid of silence with his instrument and he knows how to use space in his playing, the result being that the atmosphere stays even though he doesn't play constantly. The rest of the band carries the atmosphere he's created.' –TicketMOMster
Keith Price has released seven albums; Trio Antipodes: Upside Downwards (2019), Double Quartet (2017), Live at 101.5 UMFM (2015), The Good, The Bad, and The Ugly (2015), Solo Guitar (2013), Gaia/Goya (2011), and Breakfast of Champions (2009).
Performance highlights include Montreal International Jazz Festival, CBC Canada Live, Yardbird Suite (Edmonton), Rainbow Trout Music Festival, and Jazz on the Rooftop at the Winnipeg Art Gallery. Keith has had the honour of opening shows for Kamasi Washington, Robert Glasper, and The Bad Plus.
Keith Price Trio
Featuring: Keith Price (g), Seth Boy (b), Mark Lockett (d)
Date: Thu 6 Aug 2020, 8pm
Venue: The Third Eye, Upstairs at 30 Arthur St. Te Aro
Price: General $20, WJC members $15, and Students with ID $10