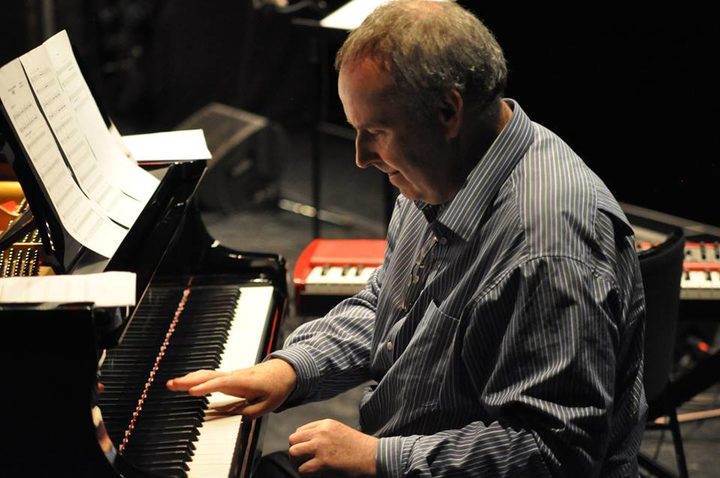 'UK Pianist Composer Mark Donlon's ensemble features young emerging New Zealand talents including Singer Lauren Nottingham who has recently returned fresh from Europe. The music will include original music and music by Kenny Wheeler and UK pianist/composer John Taylor.'
Lauren Nottingham is a vocalist from New Plymouth whose serious interest in jazz began in 2011 after she won the award for Most Outstanding Vocalist at the inaugural New Zealand School of Music Jazz Festival.  This led her to study Jazz Performance at NZSM from 2012 – 2014 where she established a profile as a promising young musician. Alongside her love for jazz is her love for choral singing. Lauren was a member of the 2014–2016 New Zealand Youth Choir, who went on a European Landmark Tour last July, and won the Grand Prix in the 2016 IFAS in Pardubice Czech Republic and also all four categories it competed in. Other recent projects include featuring alongside Jamie Oehlers in Mark Donlon's latest album release 'Shadowbird', and releasing an album as the lead singer of Multiplayer – a band showcasing the original works of the outstanding American pianist/composer Matt Sagen.
 New Zealand Musician Magazine commented last year: "…quick fire lyrics, skilfully sung by Lauren Nottingham… skilful and smooth jazz with a mixture of scat and rapping"
After spending the past year living in Berlin, Lauren is back home continuing to develop her own musical collaborations.
Mark Donlon is a British pianist, composer, conductor and educator based in New Zealand. He is an Associate of the Royal Academy of Music (ARAM). Recent and upcoming album releases include 'Southern Shift', which is an album of improvised solo piano pieces and 'Between Moons' – a duo album with New-York based, Grammy Award winning trumpeter Alex Sipiagin. 2017 will see the release of 'Tales From The Diaspora' – a quintet album recorded in New York and featuring Seamus Blake, Alex Sipiagin, Boris Kozlov, Mark Donlon on piano and Donald Edwards on drums. 2016 also saw the release of the debut album 'Shadowbird' by his Australasian group which features Australian saxophonist Jamie Oehlers.
As a solo pianist he has recorded CDs and given recitals of his Jazz/Contemporary Classical crossover compositions to critical acclaim in the press. He is also particularly known as a specialist in Latin Music .
In the field of Higher Education he has established a profile as a respected teacher and academic , having taught and examined at leading conservatoires such as Trinity Laban, The Guildhall School of Music and Drama, the DIT Conservatoire in Dublin and The Royal Academy of Music. He also held senior academic positions at Leeds College of Music and Victoria University, Wellington. He is a tutor and assessor for the National Youth Jazz Collective. He moved to New Zealand in 2013 where he is Head of Jazz at the New Zealand School of Music, Victoria University Wellington. He was awarded an ARAM by the Royal Academy of Music in 2017 in recognition of his distinguished contribution to the music profession.
He founded the highly successful CUK Big Band in 2004 and was presented with an award for excellence in Jazz Education by the IAJE in Toronto in 2008 in recognition of that undertaking. As well as releasing a number of CDs he has had works published for solo piano, small jazz ensembles and Jazz orchestra.
Mark Donlon Quartet
Featuring: Lauren Nottingham (v) and Mark Donlon (p)
Date: Thurs 3 August 2017
Venue: Pyramid Club, 272 Taranaki St.
Time: 8pm
Price: $10 General, $5 Members and Students with ID